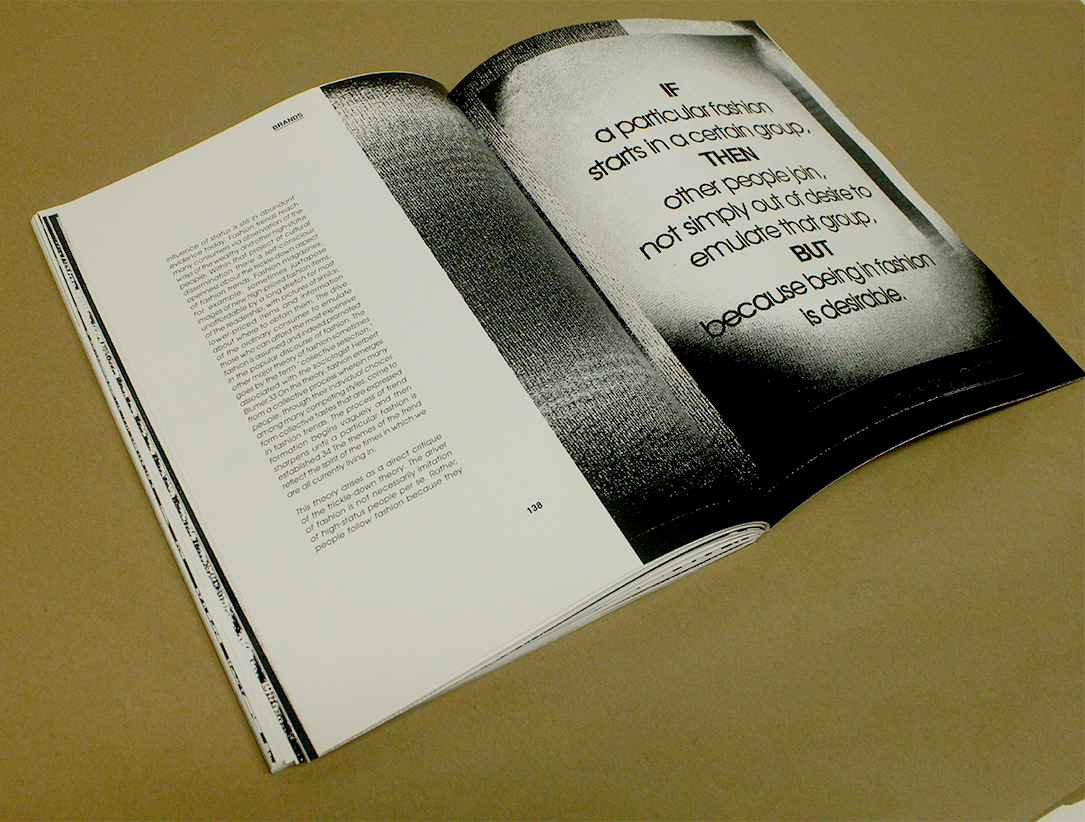 The main idea for my project is to represent my content within a book that has references towards fashion editorials. Since my book mainly deals with articles dealing with fashion & big brand counterfeiting, I took the Initiative to research and take inspiration from books and magazines of that genre. These inspirations included making decisions like using glossy paper for the inside pages and having a larger scale book. These two characteristics are something I saw as a major pattern within the majority of these specific magazines.
I also chose to show many spreads within my book that have big, graphically bold type. The type has overlaying, photocopy qualities. I chose to create spreads like these to reference the idea of counterfeit products and how a certain idea or product is copied over and over again, similar to a copy machine. The big, bold typographic visuals refer to the headlines within fashion magazines. After researching I have noticed that fashion magazines use eye catching, very large text for headlines of certain articles or sections within the book. My inside bodycopy, article titles and quotes are all typefaces I felt that represent fashion & reference typography from contemporary and vintage fashion related graphic design posters/publications.
I switch off from a classy, and older serif typeface, Didot, to a more modern, & sleek san serif, Avant Garde, for body copy of articles within the chapters. I chose to use an art deco inspired typeface for the main articles of each chapter. This typeface references the art deco design posters of the 1920's. I felt that this era of design & fashion was very influential and I wanted to incorporate a type face that conveys a dynamic yet classy feeling. Although I wanted to reference the sleek and classy qualities of fashion inspired books, I also wanted to reference the idea of counterfeiting and the negative, and ultimately ugly effects and issues it brings upon brands and individuals. The choatic, overlaying, photo copy effects designed within type on certain spreads are supposed to convey the harsh reality of the illegal activity of counterfeiting. When counterfeiter's blatantly rip off a companie's product & make money off of it, it can really cause issues for the brand. I wanted to show these fake characteristics through my type, whether it was rendering the type in a certain way, or basing it off of a certain word/action that refers to fake qualities.